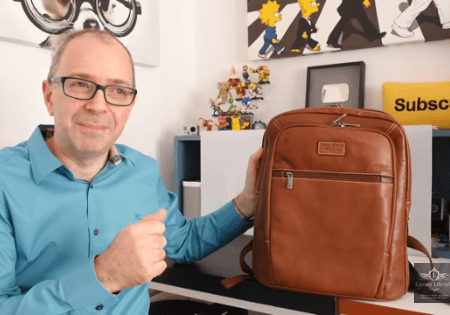 Dave Cryer of Geekanoids reviews our Montana Backpack (3712)
Dave currently runs the very popular Geekanoids website which is a tech based website and a YouTube Network Channel with 106,000 subscribers - the vision for Geekanoids is to bring unbiased product reviews to viewers so that they can make informed buying decisions. Dave has also branched into reviewing luxury products. Says Dave - "In 2015 the Luxury Lifestyle Channel was also launched, covering my passion and personal interest in high quality products and fashion."
Here are some of the comments on the video:
"

Love the "Rolex" green interior lining"

"

Fantastic backpack! Thanks for sharing Dave"

"

Great design, great color as well. The interior does compliment the outer color."
 The backpack measures 30cm x 39cm x 13cm and has the following features:
Front zip pocket
1st pocket opens onto multi storage of wallets, pens and 2 credit card slots + large zip pocket
Main compartment has separate laptop or tablet section
Leather covered straps and trolley slip
Supplied in dust cover