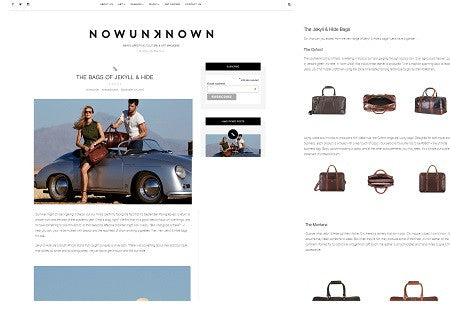 Lifestyle, culture and arts magazine NOW UNKNOWN features us
We are beyond excited that men's lifestyle, culture and art magazine NOW UNKNOWN featured us in their article called "The Bags of Jekyll & Hide".
We loved speaking with them and giving them deeper insight into our craft - "With designs coming out of their Cape Town studio, Jekyll & Hide bags are made from only the finest leather. Now this is a boast claimed by many leatherworkers, but Jekyll & Hide go all around the world in pursuit of the finest material, created by master craftsmen. That means trips to South America, Africa, Asia and Europe to find the perfect leather to suit each bag design. That's a dedication to quality that you can respect."
In the article they provide a great overview of our key ranges including Oxford, Montana, Woodstock, Berlin and Soho.
Read the full article here: http://nowunknown.com/fashion/accessories/bags-of-jekyll-hide/