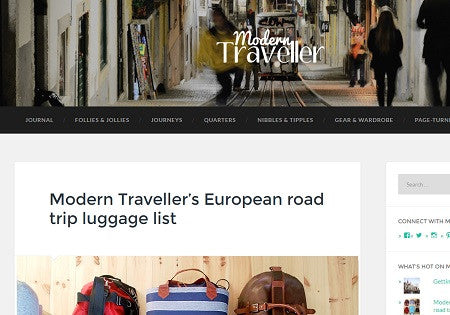 Modern Traveller picks us for their European road trip luggage list
The team at Modern Traveller are embarking on a grand tour of the roads of Europe. And of course the second most important thing on a road trip after the car are the bags! Which is why they're putting six of their favourite sacks through their paces.
Come December, they'll be back with a full review feature, to tell you just how well each bag coped with being stuffed full of socks, flung in the boot and dragged up the stairs of many an AirBnB – so you might want to keep some space on your Christmas list.
This is what they had to say about our handy holdall: "It ought to bring a touch of class to proceedings, and we're eager to fold our favourite shirts, shorts and Chelsea boots into its luxurious leather embrace."
Read the full article here: https://moderntraveller.net/2016/09/09/modern-travellers-european-road-trip-luggage-list/
Follow their adventure on Instagram here: https://www.instagram.com/mdntraveller/