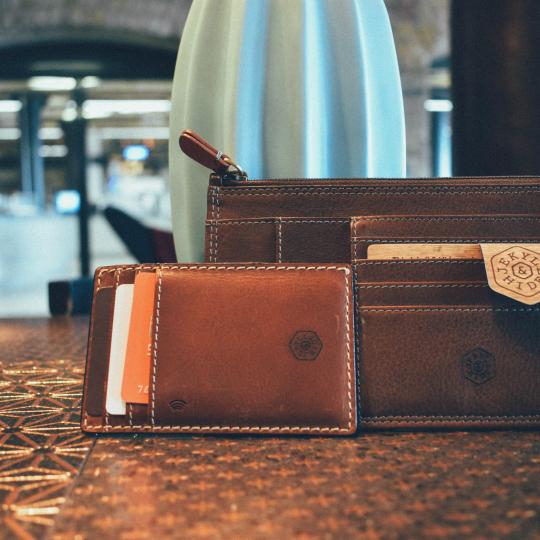 The Best Wallet: As Chosen By T3 Magazine
A wallet is a personal thing, speaking to who you are - organised, hoarder, prepared? Although all wallets serve the same purpose, there are a variety of styles to choose from, a wallet for every type of man.
Dressing up in stylish clothes is one thing, but it's the small details like your wallet set you apart from the crowd, the one, and arguably the most important, accessory that is usually overlooked. Not only does it upgrade your style, but it also makes you magically feel in control of your finances. A quality leather wallet is a man's best friend.
Wallets are a timeless, stylish accessory and a vital investment for any pocket. Given it's where we store our cash, it is a wonder why some choose a leather wallet so casually and haphazardly. When it comes to buying a wallet, it is important to know what you need it for.  The way we recommend deciding is lay everything that is in your current wallet on the table, throw away old slips and keep on one side the cards, coins and notes, identify those that you use on a regular basis. You then need to decide how bulky you want your pocket to be. Lastly invest only in quality leather; there is nothing worse than synthetic fibres and flimsy commodity leather. We have made picking the right wallet so much easier for you, with our carefully designed ranges to suit your specific needs, from sleek bi-folds to larger zipped travel wallets.
The Flip Wallet
Meticulous crafted and sophisticated in its simplicity, this is perhaps the most traditional style. The main factors to consider are do you carry cash around? Do you need a secure coin compartment? This classic style is perfect for the man with inside pockets in his jacket. We have refined this range to include slightly larger tri-fold wallets with an outer clasp as well as slimmer styles for those who are fans of fitted suits.
The Cardholder
For the gent who likes to travel a little lighter, cardholder is the way to go. Thinner in design, the cardholder prevents you from hoarding outdated receipts and papers. With 6 card slots and an inner compartment for notes and slips, our cardholders are all RFID protected and destined to age beautifully.
The Coat
Generously sized, the long wallet has ample room for cards. If you like your notes crisp and crease-free, this type of wallet allows you to store your cash neatly. Although, they will not fit in your back pocket, their classic look and quality make them a desired choice.
The Traveller
Planning a trip? A handy accessory for global getaways with space for different currencies, your passport and boarding passes. Though slightly larger, these wallets come with security benefits like zipped compartments.
Gadgets and gizmos galore, T3 magazine chose our RFID Wallets as one of their top wallets for men for 2018. "A simple classic," with RFID lining designed to protect bank cards against identity theft, where style meets function and safety. You get a choice of a coffee or black finish from this "simple-but-effective 12cm x 9cm x 3cm design." Storage is plentiful with 4 card slots, 2 slip pockets and a handy coin pouch that is secured by a studded closure. There's space for notes plus a zipped note compartment for added safety. Our full-grain leather finish promises hardwearing performance, tanned using a natural vegetable process that looks better with age. Read the full T3 article here.
Before picking your next wallet, try and be organised and go for a wallet that fits your needs and not one that you need to alter your routine for. A wallet is there to make your life easier and any that fails to do this doesn't deserve a spot in your pocket.

Until next time…